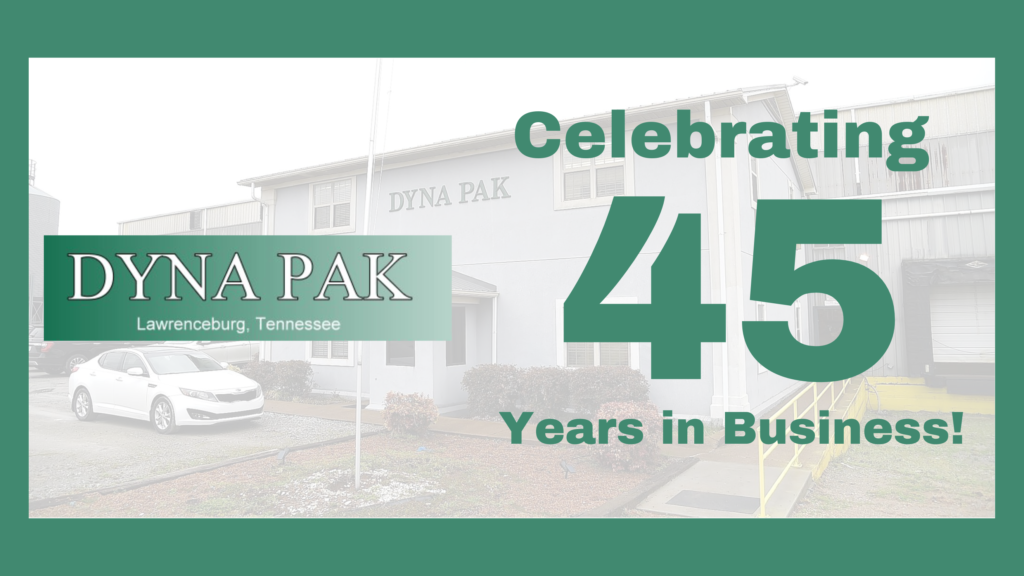 May 2023 completes 45 years of continuous operations at Dyna Pak Corporation in the Lawrenceburg area. For these last 45 years, Dyna Pak has remained under the same management and ownership. 
Dyna Pak is a full line manufacturing of polyethylene films for industrial, municipal, and retail stores for various packaging applications. This includes plastic trash bags, can liners, recycling bags, and retail bags. Their products are distributed throughout the United States.
Dyna Pak has been able to maintain operations, even with the recent price surge of raw materials (oil based) and power, which is the largest cost of their manufacturing operation. This is because of Dyna Pak's loyal employees, whom 26% have contributed to 20+ years, 11% have been there 10-19 years, and 11% for 5-9 years.
"Existing businesses create 70% of all new jobs in Tennessee and the same is true here in Lawrence County. Dyna Pak's 45-year history in Lawrenceburg is a testament not only to our business climate, but their team's commitment to the values that make our community special," stated Ryan Egly, President and CEO of the Lawrence County Chamber of Commerce. "On behalf of the entire business community, the Chamber congratulates the Dyna Pak team and their families as they celebrate this anniversary."
It is the desire of the management and ownership at Dyna Pak, that they can compete for another 45 years here in Lawrenceburg and throughout the United States.
If you would like more information or a consultation with Dyna Pak, visit dynapak.com or call 1-800-759-DYNA (3962).
About the Chamber
The Lawrence County Chamber of Commerce is a network of businesses, industries, local governments, utilities, and private citizens that are committed to improving the quality of life in Lawrence County, Tennessee through economic development, community development, tourism marketing, and workforce development.