Whether you need to import raw materials or export finished goods, businesses can easily access global markets from Lawrence County.
Four-Lane and Interstate Highway Access
Lawrence County is served by two interstate-caliber, four-lane divided highways. US-64 runs east and west from Arizona to the Atlantic Ocean, while US-43 extends from Tennessee to the Gulf Coast in Alabama. Interstate 65 is 19 miles from Lawrence County. I-65 is a major north-south route from Minnesota to Louisiana.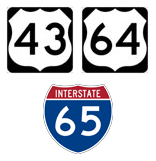 Tennessee Southern Railroad
Tennessee Southern Railroad (TSRR) runs from Maury County to the Port of Florence on the Tennessee River. TSRR interchanges with Class I carrier CSX in Maury County. Lawrenceburg offers a cross-dock facility with the ability to transload products between rail cars and trucks. The Port of Florence provides intermodal service between railroad, river barges and trucks.
Belonging geographically to the southeastern United States, businesses can leverage various modes of transport to move materials and goods. The Ports of Savannah, New Orleans, and Mobile are all within a days' drive from our industrial areas, and can also be easily accessed by main-line rail serving nearby Nashville, Huntsville, and Memphis. Our industrial areas are served by the short-line Tennessee Southern Railroad which connects us to a CSX main-line and the Port of Florence, an inland riverport located 40 miles south of Lawrenceburg.
The Port of Florence is a public, non-profit corporation owned and operated by the Florence-Lauderdale County Port Authority. Located at mile 256.6 on the Tennessee River, the Port of Florence connects the entire region with the rest of the United States and the global marketplace. The port serves regional business and industry through links with an excellent transportation system including four-lane highways with connections to major interstates and the Tennessee Southern Railroad Company with connections to CSX railways. Tennessee Southern Railroad also provides stevedoring services for the port across the dock via the port's 40-ton bridge crane. Fleeting in the port area is provided by Muscle Shoals Marine Service.