The Lawrence County Chamber of Commerce is proud to announce the new ShopLawCo Community Gift Card, a community-based digital gift card that makes it fun and easy to keep spending local. Purchase a ShopLawCo E-Card here to use at any of the participating shops in the neighborhood. With this card, you can write a personal message and send it to family, friends and colleagues via email, text, or printable copy. Recipients can choose to spend it at one of 28 (and growing) participating merchants in Lawrence County —or mix it up and spend flexibly at multiple locations. All-digital and always available on your phone, the ShopLawCo E-Card is great for birthdays, holidays, teacher appreciation, coach gifts, or just to show your appreciation to a friend. Now you can give back to the community while you celebrate the upcoming holiday season!
Why Supporting Local Businesses is so Important
Participating in this program means supporting the heart of what makes our community unique. The purchase of a ShopLawCo eGift Card creates a pool of cash that local businesses in Lawrence County can rely on. Studies[1] have shown that local independent retailers recirculate 47% of their revenue back into the community, while only 14% of national chains' revenue stays in the community. More dramatically, restaurants recirculate 73% of their revenue back into the community, versus only 30% for national chains.

By supporting local businesses, more money continues circulating through the local community—this is achieved through a combination of profits paid to local business owners, wages paid to local workers, goods and services procured locally for internal use or resale, and charitable giving within the community. If you're looking for a way to do some good or want to know how you can help the community you love, send a ShopLawCo E-Card today! For more information or to participate as a merchant in the program, please contact the Lawrence County Chamber of Commerce here.

Lawrence County Chamber of Commerce Member Merchants
Below are the member merchants that are participating in the ShopLawCo E-Card program and will now be accepting gift cards:
Accents Floral and Tuxedo Rental
Artful Harvest
Co-Work Coffee
Cocina Real
Cozy Cabin Coffee
Deb-O's Pizza
El Azteca
Escape from Warehouse 1 / Axe Kicking
Hund Haus Wine & Spirits
Hwy 55 Burgers, Shakes, & Fries
JennieLynne's Little Patch of Heaven
Jones Home Furnishings
Kingpin Lanes
Lawrence County Chamber of Commerce
Mad Hatter's Party Wonderland
MaeBri Designs
McMasters Home Gallery
Pearls… for the Home
Puente Grande
Resplendent Boutique
Rick's Barbecue
Sassy Southern Designs
Stetar's Restaurant
Strikers Steakhouse
Surprise Bouquet
The Little Gold Mine
The Outlook – Lawrenceburg
The Outlook – Pulaski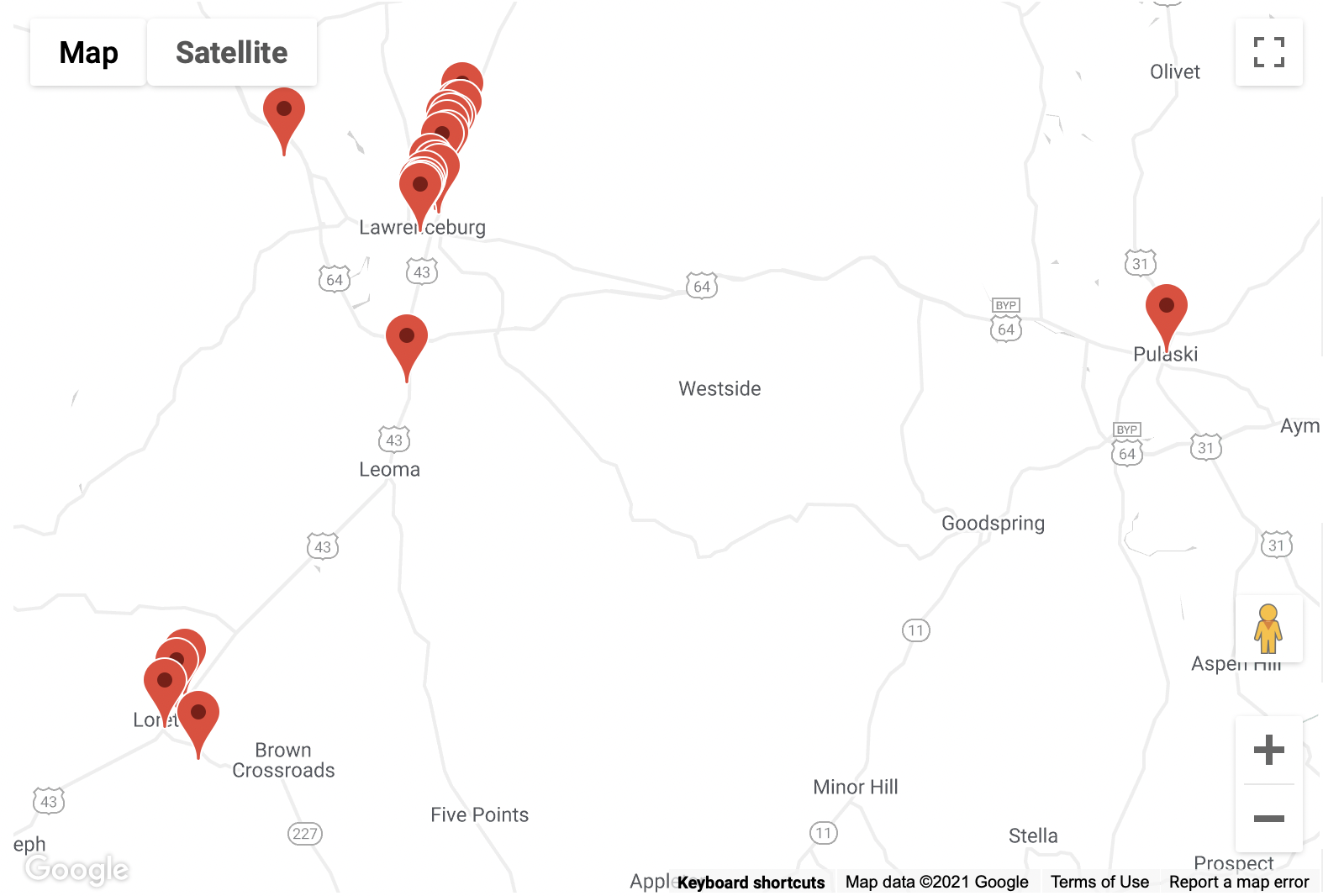 This program is an added member benefit to being a member of the Lawrence County Chamber of Commerce. If you are a member and would like to participate or want more information, please contact keeli@lawcotn.com or call 931-762-4911.

About the Chamber
The Lawrence County Chamber of Commerce is a network of businesses, industries, local governments, utilities, and private citizens that are committed to improving the quality of life in Lawrence County, Tennessee through economic development, community development, tourism marketing, and workforce development.

About Yiftee
Yiftee (Yiftee.com) is the award winning, no hassle eGift card and promotions solution for local businesses and communities. With no special technology or POS integration, no revenue-share and no special accounting, it's easy for merchants to offer eGift Cards on their website and Facebook pages. Merchants gain additional sales, foot traffic, and an eGifting capability like big retailers. Consumers, corporations, and merchants use the Yiftee mobile and online website to send thoughtful, unexpected gifts via email, text or print. Recipients pick up their Yiftee gifts using their smartphone at their favorite local restaurants and shops, driving profitable business to those merchants. For more info see Yiftee.com or email info@yiftee.com.
---
[1]Andersonville Study of Retail Economics, 2012, by Civic Economics.