July 14, 2023
LAWRENCEBURG, Tenn. – The Lawrence County Chamber of Commerce and its members assembled Thursday night at Venue North in Lawrenceburg for their 74th Annual Membership Meeting. At the meeting, a local business was inducted into the Small Business Hall of Fame, Citizen of the Year was announced, and a Chamber ambassador received the Ambassador of the Year award.
SMALL BUSINESS HALL OF FAME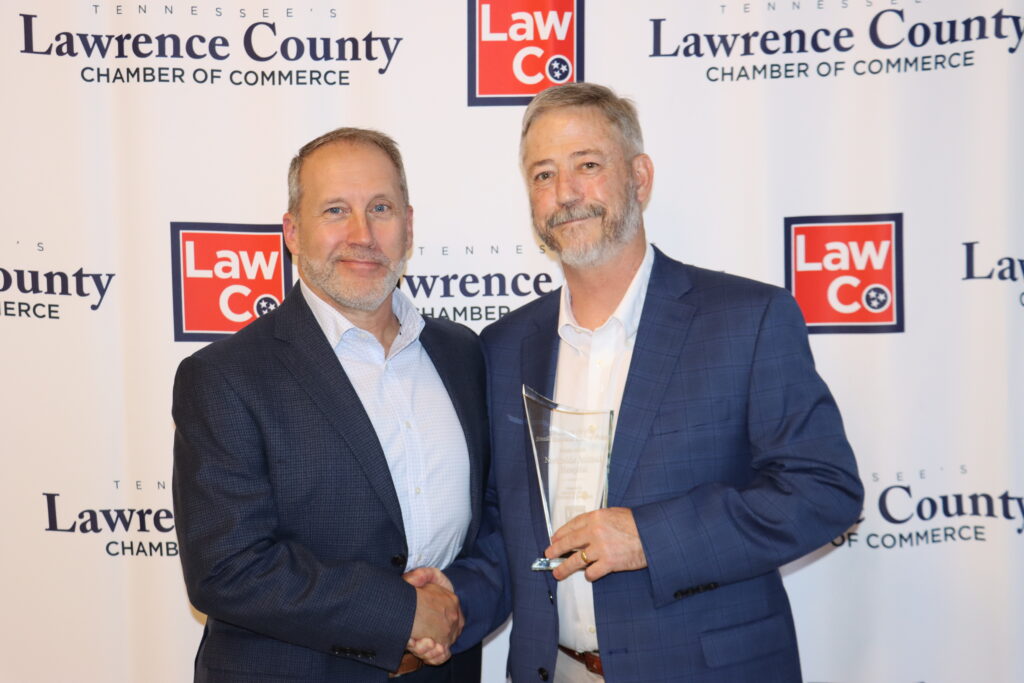 Northside Animal Hospital, established in 1992, was inducted to the Lawrence County Chamber of Commerce's Small Business Hall of Fame. This small business is a compassionate and dedicated veterinary practice serving the Lawrence County community. At Northside Animal Hospital, they offer a comprehensive range of services, including small animal medicine and surgery, laser therapy, an in-house full range pharmacy, physical examinations, vaccinations, microchip implantation, as well as boarding and daycare facilities. With humble beginnings on an empty lot, the founder, Mark Short, embarked on a mission to deliver exceptional care to the animals of Lawrence County and their owners. Being born and raised in Lawrence County, Short and his family share a deep connection with the local community and a vested interest in its well-being. Holding a degree from the University of Tennessee College of Veterinary Medicine, Short brings a wealth of expertise to the practice and has served the community with his skills for many years.
Inductees into the Small Business Hall of Fame are recognized as successful small businesses that go above and beyond for its customers, the community, and improves the quality of life in Lawrence County.
"It is with great pride and admiration that we congratulate Northside Animal Hospital on their well-deserved induction into the Small Business Hall of Fame," stated Ryan Egly, President & CEO of the Lawrence County Chamber. "Their commitment to providing exceptional care, coupled with their dedication to the community, has truly set them apart. Northside Animal Hospital has exemplified the values of excellence, compassion, and service, making a lasting impact on the lives of both animals and their owners. Congratulations to the entire team at Northside Animal Hospital on this remarkable accomplishment."
CITIZEN OF THE YEAR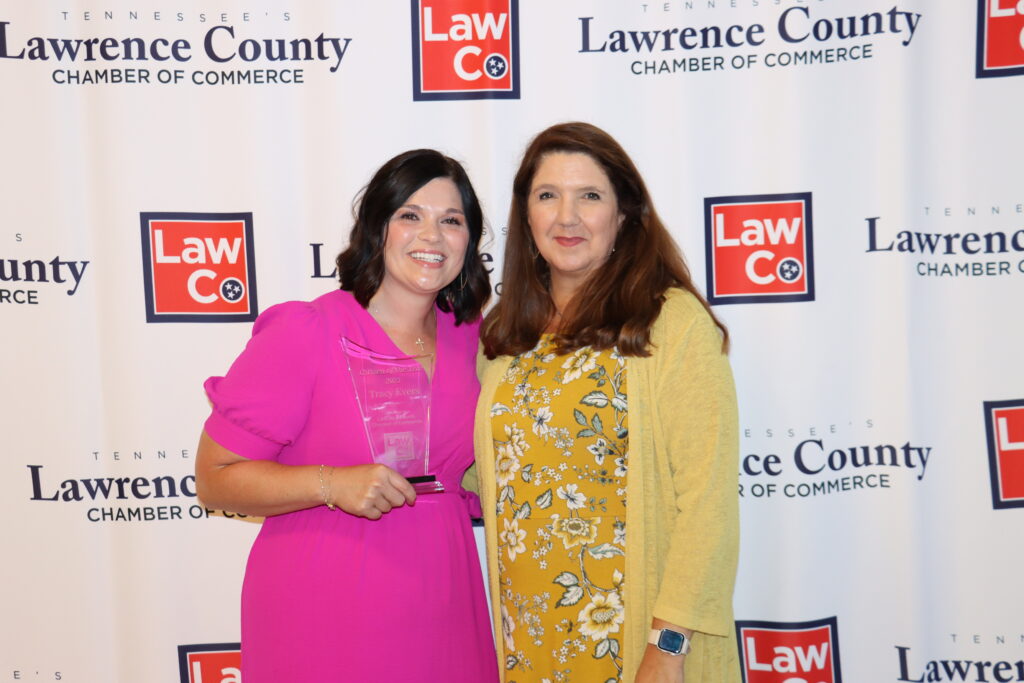 Tracy Evers was recognized as the 2023 Citizen of the Year. Evers has become an invaluable asset to the Lawrence County community through her selflessness and unwavering dedication. Although she doesn't hold any official board positions or seek recognition, her presence is felt at countless community events, where she often goes the extra mile by taking children under her wing, allowing them to experience the joys of helping others and understand the essence of good citizenship. Beyond her role as the Children's Director at First Methodist Church and her involvement with the Junior Auxiliary, Evers continuously invests her time and effort in various initiatives, such as driving seniors to where they need to go, assisting food pantries, and even participating in building playgrounds. Her impact extends to programs like Buddy Ball, where she lends her support, and her dedication to collecting food items for the backpack program, are just a few ways that her commitment is exemplified to serving the community's most vulnerable. Evers' acts of kindness touch the lives of every child and individual she encounters, spreading a contagious love and fostering a sense of unity that makes Lawrence County a better place to live. Despite her aversion to the spotlight, Tracy Evers embodies the true essence of a volunteer!
"The Lawrence County Chamber of Commerce's Citizen of the Year always honors an individual that makes Lawrence County a better place. We had numerous deserving nominations, reflecting the wealth of impactful citizens in our midst," said Egly. "However, Tracy's exceptional dedication and commitment to serving others sets her apart. She truly embodies the values of humility and genuine compassion that inspire everyone around her. It is with great pleasure that we present this well-deserved recognition to Tracy Evers. Congratulations!"
AMBASSADOR OF THE YEAR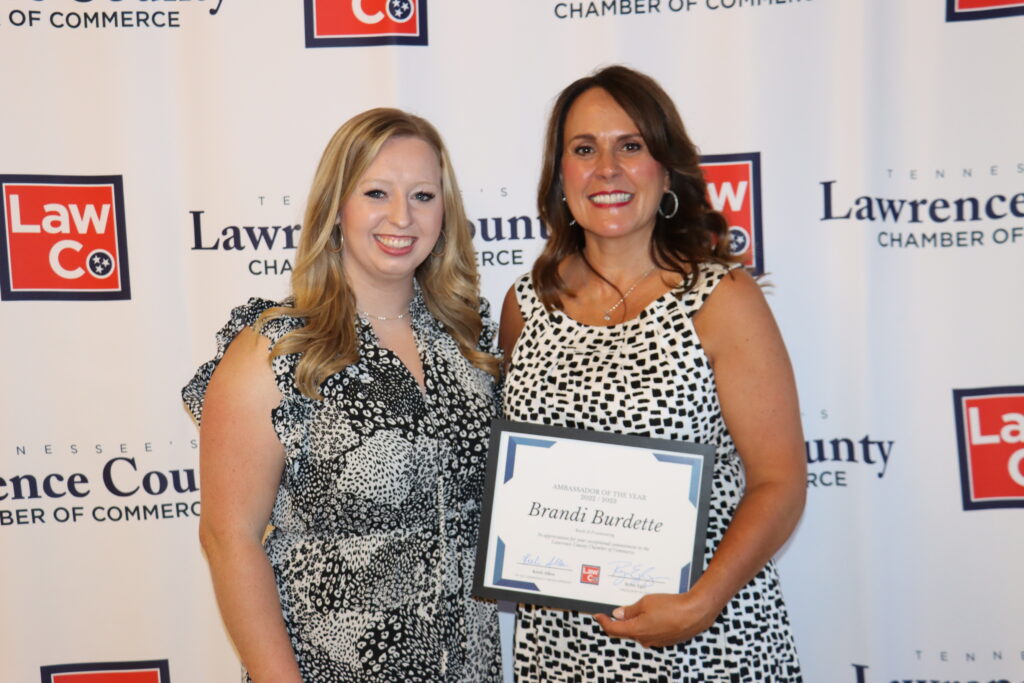 Brandi Burdette was named the 2023 Ambassador of the Year. Brandi is a Lawrence County native and works as the Business Development Manager at The Bank of Frankewing. An Ambassador is a motivated individual who helps tell the Lawrence County Chamber of Commerce story, while exhibiting the highest degree of professionalism and embracing an attitude that is positive, supportive, and respectful to all people.
The Chamber's Ambassador of the Year recognizes the Chamber Ambassador that went above and beyond to support the business community by attending ribbon cuttings, Chamber coffees, serving on committees, and volunteering their time to Chamber initiatives.
"I appreciate Brandi's volunteer spirit and her commitment to the Chamber through her support of member businesses, local non-profits, and the Lawrence County community as a whole. She lights up the room each time she walks in and is friendly and welcoming to new faces and ideas. I am proud to say congratulations again, to Brandi on receiving this award," said Keeli Allen, VP of Community Development. "We also want to give a shout out and big thank you to The Bank of Frankewing for allowing Brandi the time to support and serve with us and for their support of the Chamber and our strategic priorities."
LAWRENCE COUNTY CHAMBER OF COMMERCE BOARD OF DIRECTORS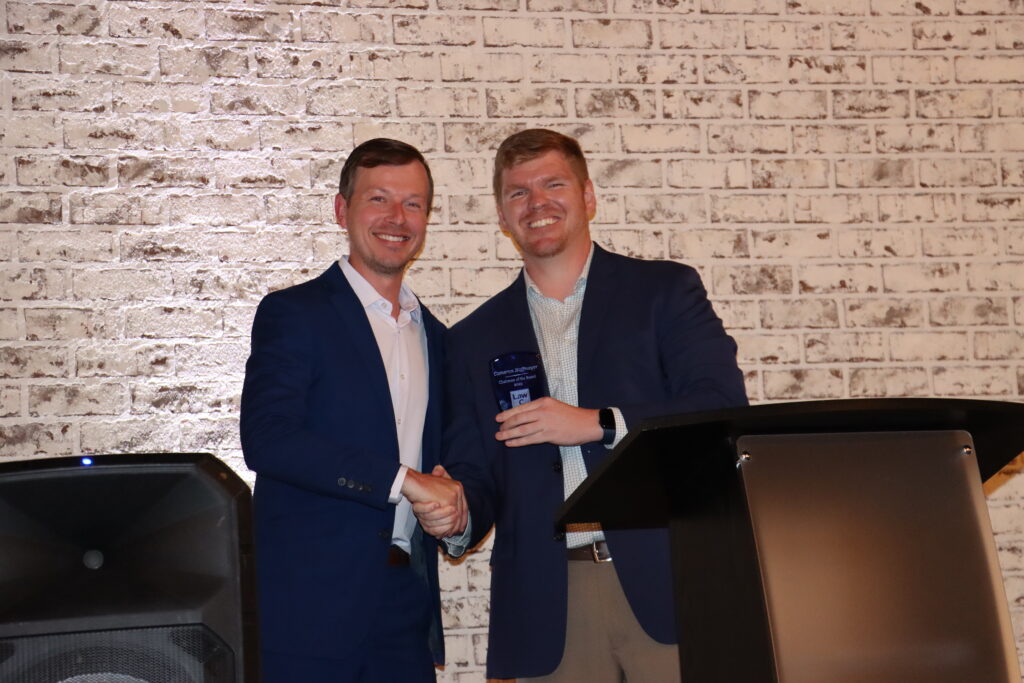 In addition to the awards above, the Chamber announced its new slate of members for its Board of Directors. The 2023-2024 Directors include Nakia McFall, Chairman (Lawrence County Farm Bureau), Ryan Evers, Vice Chairman (Evers Construction), Vic Pusser, Treasurer (Lawrenceburg Utility Systems), Steve Hill, JECDB Chair (ReMax Pros), Mark Jent (Old South Wood), Anna Welsh, Tyler Doss (Doss Brothers Construction), Jantzen Kelly (First Farmers), Tiffany Cope (Crye-Leike Realty), Allie Schwalb (Christenson Transportation Inc.), Chris Beckman (Citizens Bank of Lawrence County), Jennie Faulkner (People's Bank), and Jay Piovarcy, Alternate (Parkes Lumber Company).
David Morgan (Lawrence County Executive), Blake Lay (Lawrenceburg City Mayor), Steve McMasters (Loretto City Mayor), Roger Carter (St. Joseph City Mayor), Dallas Luna (Ethridge City Mayor), Michael Adkins (Lawrence County School System) all serve on the Board as Ex-Officio.
Cameron Hoffmeyer (Boston, Holt, & Durham) served as the 2022-2023 Chairman. We are thankful for the service and dedication that he has shown to the Chamber over the last year. We are excited for what the 2023-2024 year has to offer for the Lawrence County Chamber of Commerce and are eager to continue to serve our members and community, alongside our skilled and devoted Board of Directors.
Find the photos from the event here.
ABOUT THE CHAMBER
The Lawrence County Chamber of Commerce is a network of businesses, industries, local governments, utilities, and private citizens that are committed to improving the quality of life in Lawrence County, Tennessee through economic development, community development, tourism marketing, and workforce development.