by County Executive T.R. Williams
Last week staff members from TVA were here to talk about trends and strategies in economic development and announce that we have been designated a Valley Sustainable Silver Community.
That designation tells industries we are ready to support their efforts to conserve energy, water, and other natural resources. "This takes Lawrence County's economic development marketing efforts to prospective and existing sustainably-focused companies to a whole new level," said Ryan Egly, Economic Development Director of the Lawrence County Chamber of Commerce.
Earning the designation was a team effort, something we've practiced and perfected. These TVA officials, who work with every community in the Tennessee Valley, said we are the economic development "dream team."
I agree that we are very good at working toward goals that matter to employers. Their needs are varied so we address as many as we can, including sustainability. Most importantly, we understand that their primary need is a skilled workforce that is ready to work.
Education is the key. We knew that when we built the existing Columbia State campus and it's the reason we're building a larger facility for CSCC, Tennessee Tech, MTSU, and Martin Methodist. That is also why our school system is working very hard, and succeeding, in its effort to prepare students for the future through its Career Technical Education (CTE) program.
"When talking about Lawrence County schools to prospective industries, they are most impressed with our Career Technical Education programs," Egly said. "Our programs are well aligned with existing industry needs and can meet the needs of any company."
CTE Director Shannon Watson shares that students across the county have earned 557 national industry certifications during the fall semester. Seven certification tests are offered: OSHA (Occupational Safety & Health Administration) in four categories – General. Agriculture, Construction, and Health; and the MOS (Microsoft Office Specialist) for Word and PowerPoint. This semester, Health Science students will also have the opportunity to earn Certified Nursing Assistant (CNA) certification.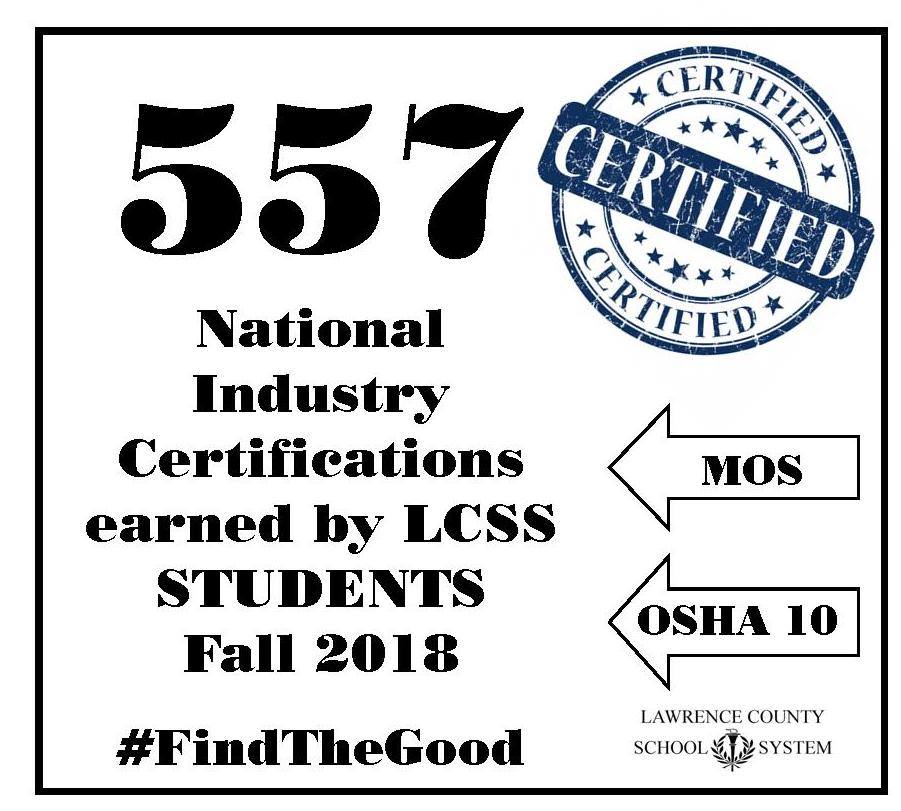 "Our goal is to have 1,000 national industry certifications by the end of the school year," she said. "I think we're going to make it."
These students are ready to work if they need and want to, but they're also getting a head start on post-secondary programs that lead to much better jobs and a higher quality of life.
Summertown, Loretto and Lawrence County High offer classes where students earn credit for high school and Tennessee College of Applied Technology (TCAT) programs. One example is Industrial Maintenance, offered by TCAT Hohenwald at the Tennessee Enterprise Center (formerly Murray Ohio). Students begin the program in high school, then go back after graduation to complete the certification. The class is always full and job placement for graduates is near100%.
Other CTE students are earning dual credit at Columbia State. Many CTE programs blur the line between "vocational" and "academic" – Project Lead the Way is a pre-engineering course; Health Science is good preparation for advanced health care degrees; Business classes include future entrepreneurs and CPAs. Other examples are clear in the list of all CTE programs at the end of this article.
"CTE encompasses the umbrella of college and career," Watson said. "The programs within Lawrence County Schools not only serve as preparation to gainful employment for our students but prepares them to be successful in post-secondary education. We have made every effort to help jump-start students' college experience through dual enrollment/credit with our local TCAT programs and Columbia State Community College."
The goal is for all students to graduate with at least some post-secondary work completed. TCAT and CSCC officials are important advisers for CTE program planning, just like local members of the business and industrial community.
Lawrence County employers host CTE faculty visits so teachers can see the equipment they use and the kind of employees they need. They also welcome rising juniors and seniors who spend time with them as part of the GETi (Getting Experience Through Internships) program, which is growing each year.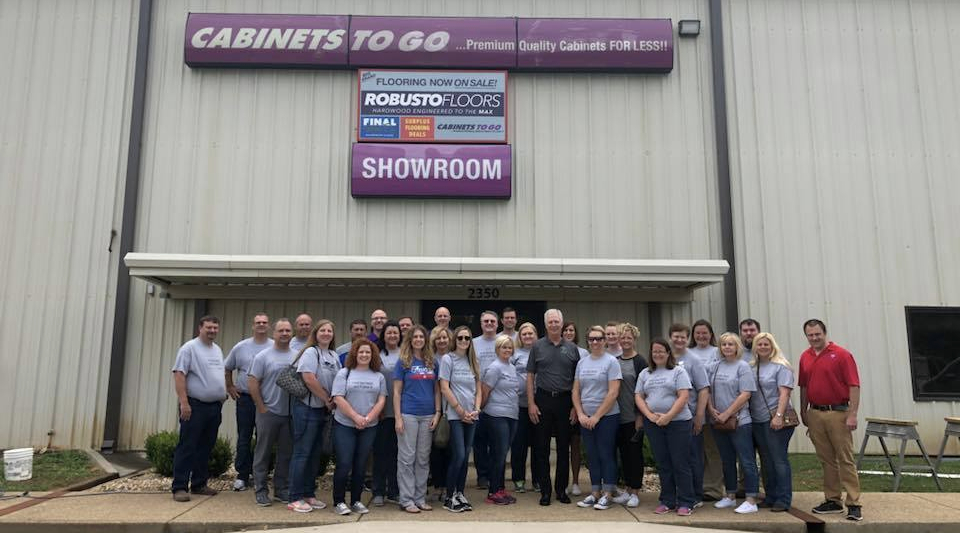 Several success stories have emerged from GETi. One student, for instance, completed an internship with a local attorney. She now attends college in Chattanooga and has a job with law firm there. "She would not have gotten that job if she had not worked with the attorney here," Watson said.
Employer concerns about poor "soft skills" led to a CTE project launched in October last year. The Work Ethics Matter campaign stresses the value of good attendance, a drug-free life, a positive attitude, and the ability to be a team player. Planned to eventually include all grades, it began in our high schools and includes a unique opportunity for seniors.
Eight local businesses are Elite Sponsors of the Work Ethics Distinction Award, which challenges seniors to complete a portfolio with evidence about their attendance (including tardiness), grades, community service, ACT scores, and enrollment in post-secondary courses. Those with a minimum of 20 out of 40 points will wear a medallion at graduation ceremonies and be entered in a drawing to win a car purchased by the Elite Sponsors.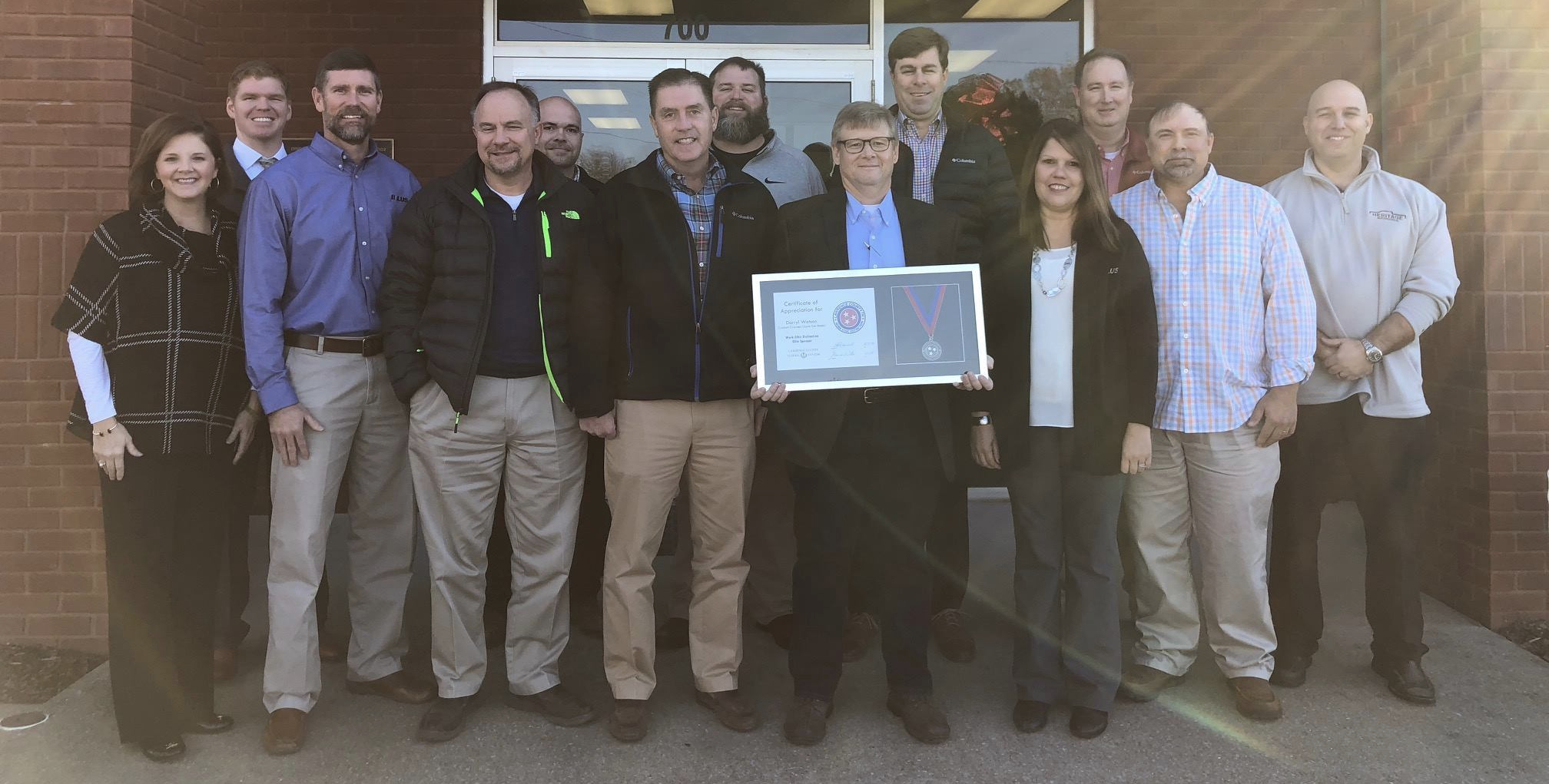 Like the Work Ethics Matter campaign, there are ongoing efforts to take Career Technical Education to younger students. All schools with sixth, seventh, and eighth graders have programs that offer an introduction. Coffman and Summertown offer a year-long Gateway class; Leoma, South Lawrence, New Prospect and Ethridge each have a nine-week program with equipment from the CTE on Wheels trailer – a zSpace 3-D printer, CPR mannequin and robotics kits.
Please encourage your children, grandchildren, nieces and nephews to take CTE courses. We live in a world that demands better-skilled workers who are able to adapt to constant change. CTE programs will give them a great start on a secure future, which is exactly what we want for them. Many thanks to that dream team: Shannon Watson, CTE teachers, support staff, administrators, School Board members, and business and industry advisers.
Lawrence County's Career Technical Education programs
Loretto High School: Agriculture, Architecture and Construction, General Building, Plumbing and Electrical (TCAT), Business, Health Science, Human Services, Industrial Maintenance (TCAT), Marketing, Project Lead the Way Pre-Engineering, and Welding (TCAT).
Summertown: Advanced Manufacturing (Mechatronics), Architecture & Construction, Residential & Commercial Construction (TCAT), Plumbing & Electrical, Business, Health Science, Human Services, Industrial Maintenance (TCAT) Project Lead the Way Pre-Engineering, and Teaching as a Profession.
Lawrence County: Agriculture, Architecture & Construction, Residential & Commercial Construction, Plumbing & Electrical (TCAT), Automotive, Business, Cosmetology, Digital Design, Health Science, Human Services, Industrial Maintenance (TCAT), Project Lead the Way Pre-Engineering, Teaching as a Profession, and Welding (TCAT).