by Ryan Egly
As a kid, I remember stomping up the creek with my Dad on blistering summer days near our Long Branch home.  He taught me how to throw a casting net to catch minnows, how to properly set them on the hook as bait, and then– most importantly– how to set the hook on a fish tempted by the sight of one of those live Shoal Creek shiners.  We would catch all sorts of fish: black perch, bluegill, largemouth, smallmouth, catfish, and the occasional drum.  I still enjoy canoeing, kayaking, and wading Shoal Creek here in Lawrence County.  In fact, the one thing I'm looking forward to the most in 2019 is breaking out the fishing gear and wetting a line this spring.
Since August 2015 (when I started at the Lawrence County Chamber), our economic development team has been fishing.  We have held dozens of meetings out of town in an attempt to find the perfect tenant for the Lawrenceburg Speculative Building and partner for our community.  We've pitched the spec building to companies meeting us basically, between Atlanta skyscrapers, restaurants in Murfreesboro, and once in transit somewhere between Pulaski and Fayetteville, everywhere.  Altogether, we submitted information about our building to more than 250 projects and hosted 65 different companies on official visits to Team Lawrence Commerce Park.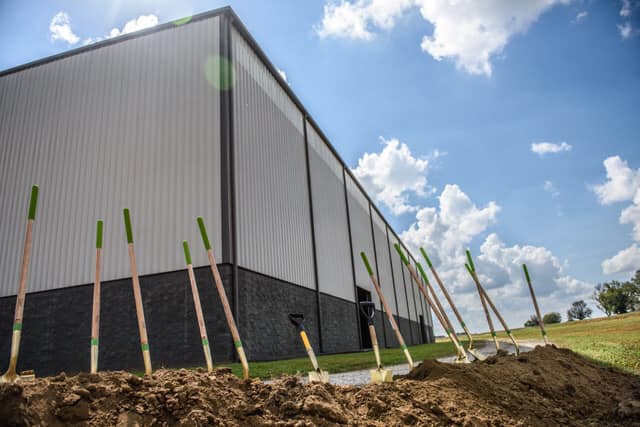 Our fishing team– I mean, economic development team– credits the Lawrenceburg Speculative Building for attracting five new companies to our community.  Combined, these companies have committed to create 624 new jobs and invest more than $63 million in Lawrence County.  My friends, those are some impressive catches in the four years since finishing the spec building!  Ultimately, we found the perfect match in a Canadian manufacturer of attachments for construction equipment.  Craig Manufacturing will invest $6.4 million and create 80 new careers in the speculative building to create their national headquarters and first U.S. manufacturing facility.
As we look ahead to 2019 and our economic development strategy, let's think about fishing.  Just as I prefer stomping up and down Shoal Creek as opposed to other area streams, businesses operating within or companies that find themselves searching around the Tennessee Valley like doing business here– to the tune of creating more than 65,000 jobs and investing $11.3 billion (TVA FY 2018).  There are quite a few fish out there looking for the right stream, and fellow fishermen around the region baiting their hooks hoping to catch that next trophy fish.  Said less metaphorically, there are quite a few companies out there looking for the right community, and our competitors around the region are developing industrial product hoping to close the next big deal.
We are doing the same.  The Lawrence County Chamber is working to identify the best location for the next speculative building.  We are also evaluating greenfield site opportunities for a brand new industrial park.  By developing both our building and greenfield site inventory, our community can sustainably accomodate any business seeking to locate in our region.
While I'll have to wait until springtime to start wading Shoal Creek again, we cannot wait until springtime to start fishing for new business and industry.  You see, we have the right stream, but the Lawrenceburg Speculative Building was the bait on our hook– and it's time to bait our hook once again.
Contact
Ryan Egly | Economic Development Director
Lawrence County Chamber of Commerce
25 B Public Square, Lawrenceburg, TN 38464
o. (931) 762-4911
ryan@lawcotn.com
About the Lawrence County Chamber of Commerce
The Lawrence County Chamber of Commerce is a network of businesses, industries, local governments, utilities, and private citizens that are committed to improving the quality of life in and around the Lawrence County, Tennessee region through economic, tourism, and workforce development.  Lawrence County was named a Top 100 Micropolitan area by Site Selection Magazine in 2016 and 2017.